Winegard PL-7000 DISH Playmaker Portable Satellite Antenna
One of the better budget TV antennas that comes with a decent satellite service without extra cost.
Features
DISH Playmaker portable satellite antenna featuring a larger high-strength military grade aluminum alloy reflector for improved signal strength, optional RV roof mount and updated sleek design.
Works exclusively with DISH HD solo satellite receiver technology. Compatible with DISH Pay-As-You-Go, pay only for the months you need, or add to home DISH satellite service
Easy setup portable antenna; powered by single coax connection through dish receiver; easy to use and lightweight RV portable satellite dish.
Satellite dish automatically finds dish HD satellite orbital locations making it easy to watch your favorite TV shows in the RV.
Optional RK-4000 (not included) roof kit allows you to mount the dish playmaker satellite antenna to your RV's roof making it easy to store and always ready to use.
Description
Winegard PL-7000 DISH Playmaker RV Portable Satellite Antenna:
The Winegard DISH Playmaker portable satellite antenna is specially designed for watching DISH HD programming while in the RV, camping, hunting, or make your tailgate party the ultimate tailgater! This easy to use portable satellite system automatically finds satellite programming with no antenna pointing.
The DISH Playmaker is a fully automatic portable satellite antenna and is easy for anyone to set up in just a few minutes. Simply connect the included coax between the DISH Playmaker and the satellite receiver, then connect an HDMI or coax from the satellite receiver to the TV. Power up the satellite receiver and TV and complete the satellite receiver setup.
Compatible with your current DISH subscription or pay-as-you-go satellite programming providing convenience of no long contracts or commitments.
Note: For use in a commercial truck purchase the Winegard Pathway X1.
Winegard Company designs and manufactures the greatest spectrum of world class Terrestrial and Satellite video and data antenna products and accessories for residential and mobile applications. Since its incorporation in 1953, Winegard has designed more than 1,000 antenna models and been granted over 80 U.S. patents. The company's heritage includes recognition by NASA for contributions to the Apollo 11 mission, and the induction of founder John Winegard into the Consumer Electronics Association Hall of Fame. Winegard's superior antenna design and manufacturing facilities total 410,000 sq. ft and include a state of the art testing, validation and measurement center. The company's in-house and vertically integrated capabilities support its accelerated product design and development cycle.
---
Really disappointing. Buyer beware. UPDATED Oct.2018
After setting up and testing the system in my driveway multiple times I was very pleased with this purchase. With the first camping trip the satellite worked well for two days. On the third day it would not work at all… I kept getting an on screen message "cannot locate signal, check all connections and call Dish." After several calls to Dish and checking all connections, re-booting several times I finally gave up and waited until returning home. I made several attempts to get through to Winegard and once I finally got through the tech person said to check the voltage at both the receiver and dish ends of the coax. I was showing a range of 13 to 19 volts and the system would work about half the time. I strongly suspect a bad receiver. The Winegard tech said I was covered under the two year warranty but since the problem was intermittent if I were to return the unit to the factory they may or may not be able to fix the problem unless they could duplicate the same issue I was having at home. After replacing my new coax cable with another new coax cable when I test the system I get the "cannot locate signal" message immediately followed by the dish working correctly then flashing back to the "cannot locate" message and then back to programming. Quite frankly, having spent $300 for a system that works intermittently and cannot get decent customer service from either Dish or Winegard I would not recommend buying this product with the Wally receiver. If you do buy, make sure everything is working correctly before the 30 day Amazon return window closes. UPDATE 6-10-2018 Upgraded to three stars since my problems seem to be resolved. I called Dish Customer Service and finally connected with a very capable young man who spent 2 1/2 hours on the phone with me and checked what seemed to be almost every test in the book. The software was seriously out of date and one glitch is the button labelled "Upgrade my Software" doesn't work and only tells you that whatever version you have is already current and up to date… Wrong!! As of 6-9-2018 the current software version is U438. There are 3 ways to update: 1.) if you are already a Dish customer take the receiver inside and hook it up to your home satellite wiring. The receiver will update at 1 AM or so automatically. 2.) Clear the memory by unplugging the receiver, disconnect the coax to the dish and plug the receiver back in to reboot through the whole process. Of course the dish won't find anything because the coax is disconnected but the memory will be cleared. Then connect the coax back to the dish and reboot. After the reboot, and assuming you are receiving something, use the remote to turn off power to the receiver which puts it into standby mode where you will watch the dancing "tips" square. After a couple of minutes the receiver will begin a software download and install. 3.) As in step #1, if you are not a home Dish customer, leave the system plugged in and wait overnight for the automatic update and download. To see what version software you have now, and to confirm if anything has changed, push the Home button on the remote three times and look for the software version in the middle of the page. If you have U438 (or higher) you will be current. Since I am by no means an expert about any of this I urge you to call Dish technical support and have them walk you through everything. Don't waste your time with Winegard because all they care about is how much voltage is powering their dish. I upgrade to 3 stars because I am willing to give Dish technical support 5 stars but I am not 100% sure that the software is perfect and may still have future issues. Overall this process should be automatic but at least I have learned there are answers to our problems with the Wally. My confidence is restored. UPDATE 9-4-2018 My system is slowly improving with time. The software has updated a little but still uses the U438 designation. The reboot takes about 10 minutes or less now however the guide doesn't always download and I have to repeat the process occasionally. In the diagnostics area the "Upgrade my Software" button now actually works where the system will reboot on its own and try to find anything current. I am still having problems getting the complete loss of signal screen for one second followed by programming for one second then the signal loss screen then programming which flashes back and forth like a neon sign. I found that if I quickly use the channel up button to change channels when the screen flashes to the program for one second the receiver will change to that channel. When I then use the channel down button everything seems to work OK after that. As Dish will tell you on their website if you do not use the Wally receiver for two weeks or so the receiver goes into sleep mode and you will not receive programming until the receiver is reauthorized. One great improvement is to download the MY DISH app to your phone because you can now 'wake up' the receiver without having to make a phone call or go online to the website. In the app scroll to the bottom to find the Dish Outdoors tab, find and click the reauthorize button… works like magic! UPDATE 10-20-2018 Three more week long trips and finally this system is working reliably. Works well using my Honda generator or using my solar powered inverter and on-board batteries. I am still getting the flashing 'no signal' message followed by a working program but I simply push the channel up button to change channel and then come back to my original channel and all is working well. Start-up takes about 8 minutes or so. My only wish at this point is that Dish would include a memory for the receiver so once power is disconnected the receiver and dish would remember the last setting if nothing has changed in the interim. Another useful option would be to offer this system in 12 volt only so the inverter would not be necessary.
Outdated Software on Wally Receiver
Possibly the worse experience I have had in setting up equipment. Between Dish and Winegard I spent hours before finding out the software on the Wally receiver had outdated software preventing the antenna from acquiring the satellites. Unless you can acquire the satellite you can't do a software update on the Wally. So I spent hours calling tech support and moving the dish and checking the coax cable and the voltage before Dish told me I had to now have to take the Walley receiver with outdated software to a local Dish equipment seller to get the software downloaded on a unit I ordered last month. Unfortunately since I didn't try the unit within 30 days I couldn't return to Amazon. To put it mildly I was frustrated that I received a unit with far outdated software.
A really great buy at a good price.
I purchased this to replace my Winegard G2 which was still working OK after 7years. This Playmaker is a little smaller and I needed a unit that will fit in my Winnebago View storage bins. This was perfect. I did not think that this would perform as well as my old G2 but was surprised when testing it out. It had more receiving power than my old G2 and signal strength was high on all the Dish Satellites. Over 40 on all 3 birds. I am using a Wally Receiver due to small space in my new Winnebago View. I had planned to buy a G2+ but cost was a little higher than I wanted to spend. The G2+ needs a power inserter and more AC power. The Playmaker powers from the Receiver using High Quality Coax that came with the Playmaker. I am thinking about mounting it on the Roof. I can use the old G2 when trees block the signal. The G2 requires a 12v supply and 2 cables so a little extra setup. The Playmaker gets the signal very fast and much faster than the G2 which sometimes takes a very long time to get setup I think the new Playmaker has better electronics or something.
So far so good!
*** UPDATE*** I've had the Playmaker for about two months now. With the Tailgater, any thick clouds would cause a complete outage. Sometimes i would lose coverage for no reason whatsoever. With the Playmaker, i have had perfect coverage even in moderate snow and rain. I haven't seen heavy rain yet. Very happy so far. *** I bought this to replace a Tailgater 2 that gave up on me. So far this antenna is much better than the tailgater. It does make a little more noise during setup, but after that it's quiet. In fact, I have it sitting on top of my bedroom slide. The signal is about 40% to 50% higher than the tailgater so I'm not having issues with low or no signal EXCEPT when I haven't had it on in a while. When I turn on the receiver after it being idle for several hours, I am sometimes greeted with "Complete signal loss". This is just an anomaly though because as soon as I change the channel and turn it back to the original channel, it works fine. This may be a receiver issue.
Works great!
I bought this for my RV. I received it today. Arrived in 2 days and packaging was not damaged. It took me about 30 minutes to hook up, acquire satellites, download software and activate the receiver. The picture is great! I am even able to receive my local channels from the Cleveland market. Update: I've had it out several times camping. It takes about 5 – 10 minutes to setup. Once it is locked on a satellite, I have great reception the entire time, just like at home. I purchased a 2tb portable hard drive (does not have a separate power supply, rather it is powered by the Wally's USB port). Now I have DVR service too! This is great to have on a rainy day. I couldn't be happier with this.
---
View Today's Deal
Check Few more Product From Trusted Seller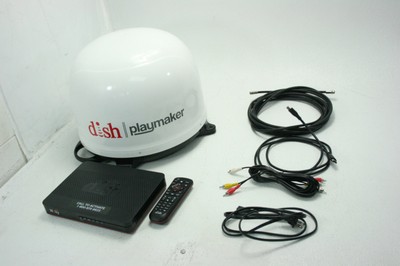 Ebay.com
---
Last update was on: July 4, 2020 4:37 pm
View Product reviews video