Winegard Pathway X2 PA6002R Satellite TV Antenna and DISH Wally Receiver Bundle (Dual Arc, 2 TV Viewing): Car Electronics
A premium satellite TV antenna that offers more service features and hands-free functions than most other options.
Features
Dual Arc technology receives both Western and Eastern arcs for maximum SD/HD DISH programming throughout the US in all weather conditions
Optimized for 2 TV seamless viewing, receives programming from satellite 72.7 when connected to 2 receivers
Receives standard and high definition DISH programming and is compatible with DISH pay-as-you-go programming
100% automatic, set your state and the X2 will do the rest! Powered through the coax, just one wire with no power cable needed
Includes DISH Wally HD receiver, Single Tuner, RF Remote with Remote Finder, Built in Apps (Netflix)
Description
Designed exclusively for DISH Network satellite TV programming, the Pathway X2 antenna offers a whole new look at automatic satellite TV acquisition. Powered through the DISH receiver, the Pathway X2 requires no separate power cord. Simply activate the receiver through an existing DISH account or subscribe to a new Pay-As-You-Go programming package that doesn't require any activation fees or 2 year agreements. A unique feature to the Pathway is the ability to point to either Western or Eastern arc satellite orbitals, offering the most programming available. The larger reflector size also provides superior signal performance compared to other automatic portable satellite systems. Lightweight yet rugged, the Pathway X2 antenna offers the fastest and easiest set up. Features 2 coax inputs to allow for multiple receiver hook-up, an easy grip carry handle, and a security eyelet molded into the base so the antenna can be locked up. Includes one 25' coax cable. Stores to 15" x 21". Weight 16 lbs. Compatible with Carryout tripod mount (sold separately). Not compatible with Carryout ladder mount. Made in the U.S.A.
---
Excellent Performance!!! Highly recommend!
I have been using this trouble free for 4 months in my travel trailer. I researched all the available antennas and this seems to offer the most versatility unless you want to mount it permanently. I mounted it on a Winegard tripod and bungee strapped it to my existing antenna on top to keep it level and deter theft. It has to be directly connected to and active receiver to find the satellites and test out. I had to run the cable in the slide out gasket and along the interior ceiling to the receiver under my TV. I couldn't get it to work by connecting to the satellite connection on my trailer. It works in light rain, but cuts out in thunderstorms. It isn't very heavy either. Dish customer service it marginal at best though.
Much better than the TailGator ….
We had a TailGator for a couple of years, and it worked as advertised, but had some limitations. While it was small, light, and easy to handle, the internal antenna is pretty small, and sometimes it could only produce a weak signal. It was also limited to the western satellites which was a problem at some campsites, especially up north. It will also support a second receiver, but you have to be watching a program available on the same satellite as the main receiver is tuned to. The Pathway X2 is bigger and heavier, but still easy enough to handle and stow away. We got it with the optional tripod, which makes for a nice solid set up. It is a much nicer built piece of equipment than the Tailgator. Comparing the reception at the same campsite, the X2 generated signals on all three satellites at least twice as strong as the Tailgator. A strong signal means noticeably faster set up and download of program guide, etc. It has also been convenient to utilize the eastern satellites when the western ones are partially obscured by trees or other site specific obstacles…. Highly recommended!
We are much happier with this Winnegard then we were with the King …
I had a problem letting linked in until I received the email, below from Winnegard. Since following their recommendations our system is running very well. We are much happier with this Winnegard then we were with the King Tailgater we owned. Coupled with the Wally receiver this is really gret. "When using the Pathway x2 with the two receiver setup mode it defaults the antenna to the 72 satellite to eliminate the toggling functionality of the antenna so both receivers have the same program. You can reboot the main receiver and select the one receiver setup option and choose the western arc option, and still use two receivers, but your secondary receiver will not have the same programming your primary does. Your secondary receiver will not have all the channels/satellites your primary does if you chose the one receiver setup option with the primary receiver. The Pathway x2 is a single LNB antenna so it will only look at one of the three satellites at any given time. Only the primary receiver controls the ability for the antenna to switch satellites. The secondary will only be able to access programming for the satellite the primary is looking at, at that moment. So if your primary receiver changes channels, and that channel happens to be on a different satellite your secondary will lose signal, and in order to continue to watch any programming at all you have to perform a check switch test on the secondary receiver in order to download the new satellite into the secondary receiver. Thank you, Winegard Customer Support"
If you live on the east coast, especially the Northeast this is the one for you
This is one of the only portable automatic satellite dishs that I'm aware of that can utilize both the Eastern arc satellites as well as the Western arc satellites. Most portable dishes can only access the Western arc. It's a little bit bigger and a ittle bit heavier than its competitors but if you live anywhere on the East Coast and camp anywhere where there's trees this is a good pick to insure you can get a signal.
Wally + Winegard antenna is a beautiful thing to behold!
Easy, flawless installation on first attempt. Picture on TV is beautiful 1080p HD. The Wally works just like our Hopper does at home, so there is no "learning" curve at all. Antenna is light weight, yet sturdy. We set it up on the tripod we purchased along with the antenna, made sure the handle was pointing north, and it found all three western arc satellites as promised. It took approximately 30 minutes from set up to TV watching what with all the software downloading. IN short, very pleased.
Perfect!
After looking for a mobile solution for our 5th wheel we found the pathway X2. Pros: No power cord needed Gets western and eastern arcs Very stable in high winds with tripod 211 receiver becomes a DVR with your own cheap external HD Extremely easy first time setup Automatically finds the satellite, no need to enter elevation. Can support 2 TVs on different channels Cons: Won't mount on ladder Will edit this review and add more cons when we find them It's been a month and we love this system
---
View Today's Deal
Check Few more Product From Trusted Seller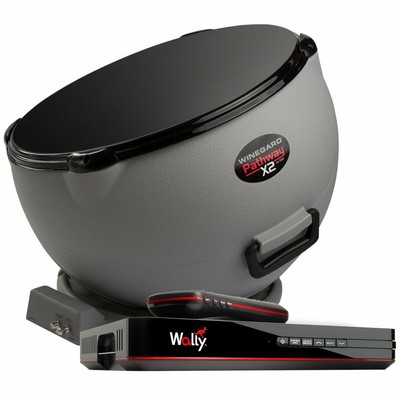 Ebay.com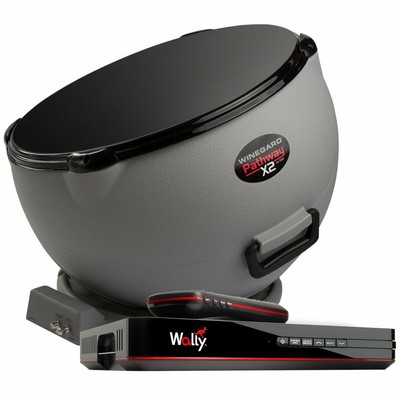 Ebay.com
---
Last update was on: July 4, 2020 4:37 pm
View Product reviews video
Last update was on: July 30, 2020 1:01 pm
Last update was on: July 30, 2020 1:01 pm
Last update was on: July 30, 2020 1:01 pm
Last update was on: July 30, 2020 1:01 pm