Sound Storm FR1500.1 Force 1500 Watt, 2 Ohm Stable Class A/B, Monoblock, MOSFET Car Amplifier with Remote Subwoofer Control: Sound Storm Laboratories: Car Electronics
Budget amplifier with better features than most. A great choice for anyone wanting a slight boost in audio performance.
Features
1500 W MAX Power @ 2 Ohm x 1 Channel
750 W MAX Power @ 4 Ohm x 1 Channel
RCA Low Level Inputs, High Level Inputs, Variable Low Pass Crossover
Variable Bass Boost, Variable Input Gain Control, Input Sensitivity Selector
Remote Subwoofer Control
Dimensions: Depth 9.1" x Width 9.7" x Height 2.4"
6 Year Platinum Online Dealer Warranty
Description
Get high quality sound with the Sound Storm Force FR1500.1 Monoblock Class A/B Amplifier. This 2-Ohm stable Amplifier features 1500 Watts Max Power with a MOSFET power supply to pump out your tunes. Customize the sound with the Variable Low Pass Crossover and Switchable Bass Boost. Max out your Bass with the Remote Subwoofer Control. The Force Amplifier Series has long stood as the ideal combination of quality, power and value, proving you don't need to break the bank to sound like a million bucks. Put your music in high gear with the Sound Storm FR1500.1. For more product details, please scroll down.
---
Trust no others this review is all you need!!!
Would be 5 stars but after doing the math on my own. RMS watts it advertised it's not true it's about 1000 RMS watts less even though being hooked up to my 1300 RMS watts a piece subwoofers it's still Powers them very very well without breaking a sweat doesn't overheat stays cool to the touch and beats pictures of my neighbor's wall half a block down but for the price of this amp it's unbeatable well it's unbeatable period Highly recommend you have no worries with this amp
The is worth it
Hello i would like to speak well about the amp i have had it for more then a year and it still works great. I have it pushing 2-10in. Soundqubed hds3 and those of you who know bass, that is pushing some weight. With 0 gauge wire. The box is a three cubic ft. large ported atrend…….INSANE !!!!!!! Just saying
Everyone wants one now!
Everybody that I spoke to about this amp said it wasn't worth anything. I put it in my truck yeasterday and everyone that has heard it wants it in their car now. It's push two Quantum 2500watt peak 12s at 2 ohm… that's only half of what it can do. I'm more than happy… I won't ever buy any other brand of amp again.
Honest review
WEAK!!!! Says 4000 watts but if your lucky youll get 1000 watts max out of this product.. only has 3 30 amp fuses on it. BE HONEST WITH YOUR PRODUCT!!!! False labeling about 4000watts. Ha not even half that was put out even when we hooked up to a dyno.
Two Stars
There is no way this thing is as powerful as claimed.
BOOM!
This Amp is great for the money….. I absolutely love it, seems to surprise me every time I get in my truck and turn the music on.
---
View Today's Deal
Check Few more Product From Trusted Seller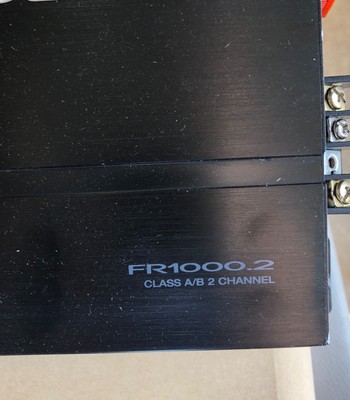 Ebay.com
---
Last update was on: June 6, 2019 1:22 am
View Product reviews video Last update was on: June 20, 2019 12:00 am Last update was on: June 20, 2019 12:00 am
Last update was on: June 20, 2019 12:00 am Last update was on: June 20, 2019 12:00 am Last update was on: June 20, 2019 12:00 am
Last update was on: June 20, 2019 12:00 am