Samsung UN65NU7300 Curved 65″ 4K UHD 7 Series Smart TV 2018
You'll love this curved TV for all it has to offer, including a dynamic entertainment experience and modern looks. The fact that the price is on the lower side is a bonus.
Features
PurColor: Enjoy millions of shades of color, fine tuned to create an incredibly vibrant picture
Motion Rate 120: Smooth action on fast-moving content
HDR: View stunning high dynamic range content with a TV designed to support HDR10+
Curved Slim Design: Get drawn into the action on a curved screen with a surprisingly slim bezel
Smart TV: Access your streaming services all in one place using the Samsung Remote Control
Description
Ahead of the curve with the clarity of the Nu7300. Like its Nu7100 flat sibling, it has 4x the resolution of Full HD. Non-4k TV content is upscaled to 4K with an immersive curve. The curve is the clear choice.
---
Great TV The 2.4 WiFi doesn't matter. It's the BEST WiFi tv I have owned
I have another 60 inch flat panel. Both the curved and the flat panel have beautiful pictures. I know the OLED at three times or four times the cost is supposed to be the way to go but I just can't imagine the picture being any better I feel like I'm there. I have seen some reviews complaining about it only sets up for 2.4 Wi-Fi. This is actually true but it doesn't really matter . I saw where one person actually sent the TV back because it only set up for 2.4 but it really doesn't matter because it will take the Wi-Fi if your router is 5.0 it doesn't make any difference and the real kicker is it has the best Wi-Fi connection of any smart TV I've ever had and I have three at the moment my house is pretty big. When I go on Netflix and do the test to see what it is bringing in it brings in 97.80 My TVs the other two that you can set up for 5G they are never over 20 or 25mps at best.. even though this TV will only set up for 2.4 Wi-Fi it picks up and receives the signal better than any TV I have that picks up the five signal. I have a 55" x 60" and now the 65 inch it picks up four times better so I think the guy might've made a mistake sending it back because it only picks up 2.4. As far as the curved picture I think it's about the same as the flat. Both are just incredible!!!
Outstanding TV for the money
This TV was an early Christmas present. It's about as big as the room allows, and because the TV sits in a corner location, the curve looks nice. That shape serves no purpose beyond the aesthetic, but it definitely works for a corner position. In all other regards, the TV is perfect for my needs. The picture is sharp and clear, the built-in speakers are surprisingly good, and I found the remote and menu system intuitive and easy to use.
Samsung Software Issue
There has been a recurring issue with Samsung TV's software. Wifi connection is always strong so that was ruled out. It exits out of the apps on its own at random points in time. Not very happy since it has happened to 2 of them.
Samsung 65NU7300 CURVED 65″ 4K UHD 7 Series…
Great TV also does HDR picture and it looks great.
Everything is ok but no Bluetooth
That TV doesn't have a Bluetooth capability
Would highly recommend
Very nice TV. Doesn't lose screen visibility if you are sitting off to the side like other curved TVs. Great picture quality
---
View Today's Deal
Flash Sale! Up to 65% off + Free Nation-wide Home Delivery! Don't Delay these Deals Won't Last!
appliancesconnection.com
Save Up to 40% on Top Branded Home Appliances. We'll Match Any Advertised Price, Offer Free Shipping Anywhere in the Continental United States and Have a 30 Day Hassle-free Money Back Policy.
appliancesconnection.com
Check Few more Product From Trusted Seller
---
Last update was on: August 7, 2019 5:29 pm
View Product reviews video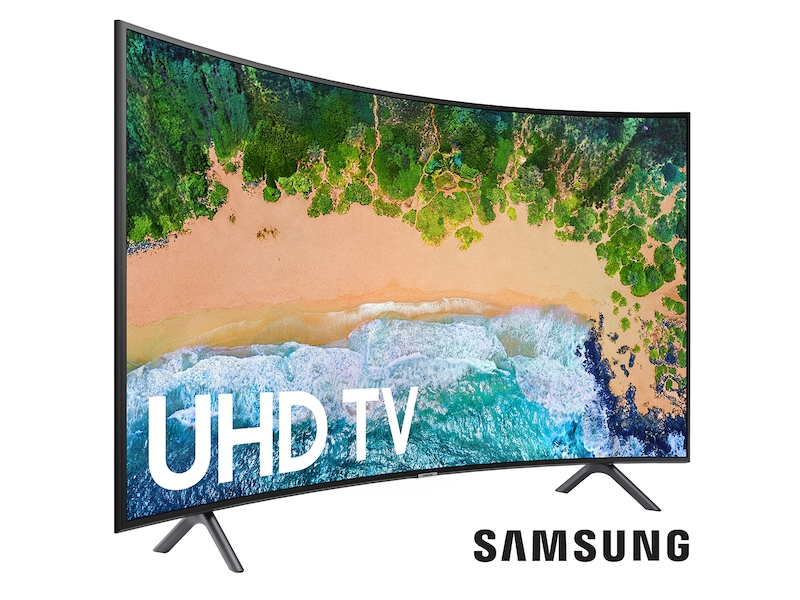 Last update was on: August 13, 2019 8:03 am
Last update was on: August 13, 2019 8:03 am
Last update was on: August 13, 2019 8:03 am
Last update was on: August 13, 2019 8:03 am