Pyle Universal 3.5'' Car HUD – Head-Up Display Multi-Color Windshield Screen Projector Vehicle Speed & GPS Navigation Compass, Plug & Play – (PHUD12): PYLE(R): Cell Phones & Accessories
Worth considering if you want a basic model that projects speed and a handy compass in spite of a few known issues.
Features
ESSENTIAL DRIVING DATA – Displays speed & driving direction, the crucial data every driver wants to know, projected in full color display right onto the windshield in-front of you with no need to take your eyes off the road
AUTO POWER ON/OFF – HUD Head-Up Display auto powers on/off with vehicle start & shutdown. Easily switch between KPH or MPH speed unit, featuring a speed alarm, giving you the ultimate display without compromising your safety
PLUG 'N' PLAY – No hassle installation. Just plug in to cigarette lighter. Includes non-slip grip mat. Designed with latest nano-technology eliminating unwanted double reflections from vehicle laminated windshield
SUITABLE FOR ALL VEHICLES – Built in Dual Core processing chip providing you with reliable real-time data received via GPS & providing you with a compass & driving direction without the need for vehicles on board computer. Perfect for every vehicle
MULTI COLOR DISPLAY – 3.5 inch multi-color digital LED display with integrated light sensors for automatic image balance for clear readout & visibility during daytime or nighttime driving. Make your travel experience safer today with PYLE HUD
Description
Pyle Model : PHUD12
Features:
The Pyle Heads Up Display HUD Screen – Vehicle Speed & GPS Compass HUD Monitor System – Heads Up Display System with Vehicle Readout – Ultra-Clear, Digital Pop-Up Screen for Your Windshield – Mounts onto Dashboard for Driving Info Projection – 3.5'' -inch Multi-Color LED Display – Convenient Vehicle Data: Displays Speed & GPS Compass – Dual Core Processor Chip for Real-Time Data – Clear Readout Visibility in Day or Night Time Driving – Integrated Light Sensors for Automatic Image Balance – Automatic Sync, Power ON/OFF with Engine Ignition – *Universal OBDII Compatibility for Automobile, Car, Truck, Vehicle – What's in the Box: – HUD Interface – Dashboard Housing Mount – Power Cable Adapter – Technical Specs: – *Vehicle Compatibility: OBDII (OBD2) Certified – *Universal On-Board Diagnostic Support.
---
Five Stars
Awesome, works great, pretty accurate, really makes driving even more fun.
Not Accurate
I plugged this thing in alongside another HUD i bought from AutoZone at roughly the same price and this one was so laggy i didn't even use it for more than one test drive. Horrible for what i paid for it.
It does what it advertises
I've only had it for a day but I spent a little bit of time driving today and tested the speed on this thing vs my car in cruise mode. I have to say there was no error in speed up till 65mph. After that there was an error of 1mph faster which honestly speaking is nothing. There is a slight lag on when the speed updates itself since this isn't connected to any onboard computer in the car but it's still amazingly precise. The only thing I wish could be changed is if this can be usb powered rather than taking up the whole socket. If you only have one socket in your car then you won't be able to use this item and power any other accessories you may have. The installation of the windshield reflective screen was easy. Overall very satisfied.
Compass inaccurate
Poor quality
Corvette action make sure to wear headphones!!!!
Works well. The only thing is that its a little slow to catch up on the speed but $40 bucks is a good price for the heads up display. 100% recommend.
Came Broken
it was broken , had to return
---
View Today's Deal
Specialist repair advice from Haynes, the home of the motorcycle and car manuals.
Specialist repair advice from Haynes the home of the car, motorcycle scooter and life interest manuals.
Specialist repair advice from Haynes, the home of the car and motorcycle manuals.
Check Few more Product From Trusted Seller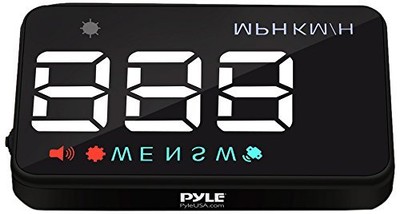 Ebay.com
---
Last update was on: April 11, 2019 12:48 am
View Product reviews video Last update was on: May 21, 2019 7:01 pm
Last update was on: May 21, 2019 7:01 pm
Last update was on: May 21, 2019 7:01 pm Last update was on: May 21, 2019 7:01 pm
Last update was on: May 21, 2019 7:01 pm Last update was on: May 21, 2019 7:01 pm