MSIGT73VR TITAN PRO-866 17.3″ Extreme Gaming Laptop 120Hz|i7-7820HK|1080 8G|16GB|256GB+1TB
Has a large display screen with a fast refresh rate for great gaming results.
Features
Display: 17.3″ 120Hz 5ms 94% NTSC 1920×1080 | Operating System: Windows 10
Processor: Core i7-7820HK (2.9 – 3.9GHz)
Graphics Card: NVIDIA GeForce GTX1080 8G GDDR5X
RAM: 16GB (16G*1) DDR4 2400MHz | Hard Drive: 256GB M.2 SATA + 1TB (7200RPM)
Special features: VR READY | 120Hz 5ms Display | SteelSeries Full-Color RGB Keyboard with Anti-Ghost key + Transparent Key Edges | Nahimic 2 Surround Sound System | Cooler Boost Titan | Thunderbolt 3
Max Memory: 64 GB
Description
Aluminum Black , 17.3″ FHD, Anti-Glare Wide View Angle 120Hz 5ms 94%NTSC , 1920×1080 16:9 , Core i7-7820HK , 2.9 – 3.9GHz , HM175 , VR Ready , NVIDIA GeForce GTX1080 8G GDDR5X , 8G GDDR5X , 16GB (16G*1) DDR4 2400MHz , 4 Sockets; Max Memory 64GB , Killer Gaming Network E2400 , Killer N1435 Combo (2*2 ac) , Intel PTT , Thunderbolt 3 , Win 10 Multi-language
---
One of the best VR Gaming Laptops on the market!
One of the best laptops I've ever owned. 3 months into ownership and figure it's about time Pros: processors and boot up are highly reliable and almost instantaneous response. Every game I have runs flawlessly, even old emulators Video quality is superb. I have the 120hz screen. Wireless display reliable. A little laggy at times but with HDMI connected it's smooth as silk. Laptop has run every VR program I have from HTC VIVE with no lag or jitters in play. The laptop comes with a fan overclock feature that REALLY HELPS with the heat generated from the 1080. And this model does generate heat in gameplay. Lastly, the laptops comes extremely well packaged. I'm keeping the box for moving purposes it was that good. Con: been having a slight issue with HDMI output but problem goes away after restarting laptop. Has only happened twice. Led keyboard is not per key lightable like the Tobii models, but again I bought the laptop for the internals. Number keys for keypad are a little on the small side for me. Overall if you have the money, get this laptop. Likely won't need to replace your gear for up to 5 years before the next tech craze hits the floor.
Best gaming and development Laptop / desktop replacement ever
This laptop is amazing!!! I've had this laptop for 3 months now. Im am a computing major and needed something that had excllent cooling to take heavy loads of work for long hours and have major power for running multiple VM's for penetration tests and what not. I killed my last laptop with overheating and this laptop has the best heating solution I've ever seen in a laptop and it is really fast!!!! The screen is 4k and looks amazing. The GPU is great and super fast and the CPU does multitasking and games very well. This is one bad machine and I couldn't be more happy with it. Weather your a games, developer, or engineer you can do it all with this laptop/ desktop replacement.
Not a Stable built machine
Within the first six weeks, automatic updates have caused the laptop to be unusable and I have to revert it back to factory settings. Researching my problems on-line It seems apparently, MSI has a history of automatic updates causing the Adapter drivers to be wiped out (in my case all wireless and Bluetooth drivers). Called them and the options are: – System reset (tried this and it failed, system became unresponsive, did reboot, but would not allow me to 'click' on anything) – Factory reset using 'F3' (Tried this and now system is unusable, stuck in reboot pattern) – RMA back to factory me paying shipping/handling/insurance to get it re-imaged – Pay $40 for a bootable USB with software on it that may arrive in mail within two weeks. Asked how to prevent this in the future, was told to update my drivers after an automatic update (hard to do when not connected to internet). Never had this issue with ASUS ROG in the 7 years I had my old gaming rig. Plus side, hardware is decent, sound is wonderful and screen is beautiful, but if you can't use the machine all of that is for naught.
good
good
---
View Today's Deal
Check Few more Product From Trusted Seller
---
View Product reviews video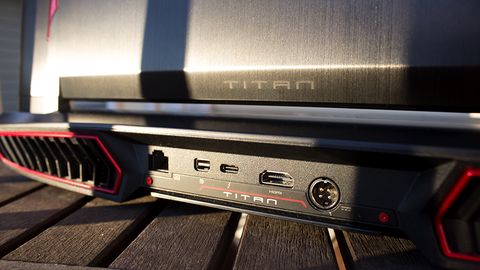 Last update was on: August 13, 2020 5:01 am
Last update was on: August 13, 2020 5:01 am Last update was on: August 13, 2020 5:01 am
Last update was on: August 13, 2020 5:01 am Last update was on: August 13, 2020 5:01 am