MSI GS63VR Stealth PRO-078 15.6″ 120Hz 3ms Ultra Thin and Light Gaming Laptop i7-7700HQ GTX 1070 8G 16GB 256GB SSD + 1TB, Aluminum Black
Strong CPU and GPU will give you the high-end gaming power you need.
Features
Display: 15.6″ FHD, Anti-Glare Wide View Angle 120Hz 3ms 94%NTSC 1920×1080 | Operating System: Windows 10
Processor: Core i7-7700HQ (2.8 – 3.8 GHz)
Graphics Card: NVIDIA GeForce GTX 1070 8G GDDR5
RAM: 16GB (16G*1) DDR4 2400MHz | Hard Drive: 256GB M.2 SATA + 1TB (5400RPM)
Special features: VR READY | Steel Series Full-Color Backlight with Anti-Ghost key + silver lining | Nahimic 2 Surround Sound System
NOTE : Kindly refer the USER MANUAL which is available below
Before using the item we request to update the EC FIRMWARE
Description
Aluminum Black , 15.6″ FHD, Anti-Glare Wide View Angle 120Hz 3ms 94%NTSC , 1920×1080 16:9 , Core i7-7700HQ , 2.8 – 3.8 Ghz , HM175 , NVIDIA GeForce GTX1070 , 8G GDDR5 , 16GB (16G1) DDR4 2400MHz , 2 Sockets; Max Memory 32GB , 256GB M.2 SATA + 1TB (5400RPM) , Killer Gaming Network E2500 , Intel 8265 Windstorm Peak (2×2 802.11 ac) , Intel PTT , 4K at 60Hz , Thunderbolt 3 , USB 3.0 3 , Steel Series Full-color backlight with Anti-Ghost key+ silver lining , 1/1 (ESS Sabre HiFi) , Speakers 4.
---
Great Game / VR performance in a slim, light weight package.
This laptop is amazing. Weighing a bit under 4 pounds and only .7″ thick, but sporting lots of ports including 3 USB 3.1, a USB 2.0 and a USB C / Thunderbolt. Performance is great and I'm able to run every game I have tried so far at highest settings including Oculus Rift games. The laptop does get very hot when gaming for extended periods so a laptop cooler that the laptop can sit on is highly recommended. You can't really game with it on your lap as it generates too much heat. The screen looks very nice (although only full HD, not 4K) with good viewing angles and beautiful color. Boots up very quickly. I haven't timed it but I am pretty sure it's under 7 seconds.
Great performance gaming laptop
Great performance from this light thin laptop. It gets hot playing big title games but the performance doesn't drop at all. Just make sure you use it in a cool area and don't play games with the laptop on your lap. Other than the heat, great laptop.
Parts failure immediately after warranty expired.
Laptop does what it's supposed to, slightly slower than the desktop version of the parts and gets a bit noisy but plays games at solid framerates. As with any gaming laptop, battery life is minimal (2hrs ish web browsing on integrated graphics) . 3 stars because the heatsink fans died 1 month after the warranty expired and the metal body is bent out around the ports. Good old MSI quality. Buy gigabyte or Asus and save yourself some hassle.
Awesome!
Awesome!
Out of the box at 98 degrees Celsius. The …
Out of the box at 98 degrees Celsius. The processor fries at 100. I had to stop the stability test to not destroy my device. Do not buy. Get the Apachi instead.
Skip this 120Hz and get the IPS 4K version
I haven't spent much time gaming on this yet, but I'm a little unhappy with my purchase. Good things 1. Powerful and reasonably light – the limited so far gaming has been great 2. Decent build quality and thinness – it feels like a quality machine 3. (When configured well) runs quietly enough for web browsing / non-gaming tasks Problems 1. Keyboard and touchpad layout is awkward – no windows key on the left is super annoying. The crunched keys in order to make space for a numpad means lots of mis-typing for me. The touchpad is nice and big, but I regularly keep touching it while typing. 2. The screen kind of sucks. I use the laptop.. on my lap. The sweet spot for the best picture is very narrow and it washes out quickly. I wish I got the IPS / non-120hz version of the laptop. 3. Sound – loud hard drive and crappy speakers. Every time a windows sound plays I'm amazed at how bad the speaker audio is I feel like I must have gotten blown out speakers, but other reviewers have the same feedback. I'm fairly likely to disable them all together. The 5400 rpm 1TB harddrive is also super loud – I've simply disabled it at present until I need the extra storage. 4. Weight – The laptop is on the slightly heavier side, but tolerable. The power supply is a tank – so not as portable as i was hoping putting them together. All up, I probably should have waited for Dell to refresh their XPS 15 line to buy one of those – really nice build quality, screen, and decent performance, but I was super burned by the crappy hard-wiring of the external display to the integrated graphics.
---
View Today's Deal
Check Few more Product From Trusted Seller
---
View Product reviews video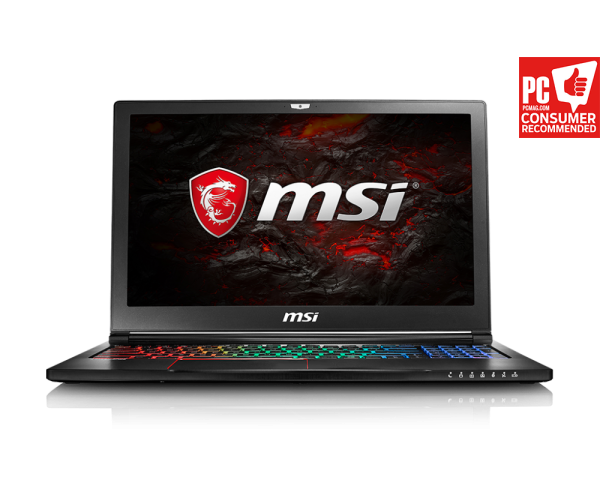 DO NOT MISS THIS OPPORTUNITY / (MSI GS63VR Stealth Pro 15.6" Core i7-7700HQ 2.8GHz 16GB 256GB SSD 1TB HDD) is on SA… https://t.co/5HCGt5rPZE
September 18, 2019 - @adzcloud Last update was on: July 28, 2020 4:05 pm
Last update was on: July 28, 2020 4:05 pm Last update was on: July 28, 2020 4:05 pm
Last update was on: July 28, 2020 4:05 pm Last update was on: July 28, 2020 4:05 pm
Last update was on: July 28, 2020 4:05 pm