Microsoft Surface Pro 4 (512 GB, 16 GB RAM, Intel Core i5)
Versatile 2-in-1 laptop/tablet combination that's also extremely portable at 1.75 pounds.
Features
Surface Pro 4 powers through everything you need to do, while being lighter than ever before
The 12.3″ PixelSense screen has extremely high contrast and low glare so you can work through the day without straining your eyes
Go from tablet to laptop in a snap with the multi-position Kickstand and improved keyboard. Type Cover Keyboard sold separately
512GB Solid State Hard Drive, 16GB Memory
Intel Core i5-6300u 2.4GHz, 6th Generation
Description
Microsoft Surface Pro 4 is the tablet that can replace your laptop. Featuring a 6th Gen Intel Core i5 processor with 16GB memory and a 512GB solid state drive, it is more powerful than its predecessor yet lighter than ever before at 1.73 pounds. The amazing 12.3″ touchscreen PixelSense display with 2736 x 1824 resolution has extremely high contrast and low glare. Use the included Surface Pen to mark-up presentations, sign documents, take notes and much more. Performance and versatility for professionals, creatives, and more.
---
For the first few hours I was happy with this tablet
I have rarely written a review of anything online, but my experience with the Surface Pro 4 Core M tablet makes me want to warn people away from this device. For the first few hours I was happy with this tablet. However, after it went into sleep mode, I tried to wake it up but the screen only glowed slightly, not lighting up as it should. No image was discernible. It would not respond to any action, including the power button. I even tried a power reset, holding the power button down for more than 10 seconds, but even that would not bring the screen up. I turned on a Bluetooth mouse and the pointer showed on the otherwise dark screen, but I still could not get it to wake. Finally, I attached an external keyboard through the USB port and did a Ctrl-Alt-Del and that woke it up to a log in screen. This has repeated itself several times over the course of three weeks; maybe one in 10 or 15 times it sleeps. This is not related to the battery being low as I have never let it get below 50%. Sometimes I do not have a keyboard with me and cannot wake the tablet. I have stayed up to date on all Windows 10 updates. I did due diligence in researching this problem online and found frustrated people with similar, though not identical, problems after the tablet sleeps. I tried a number of things, like turning off hibernate, but nothing has worked. Given that Microsoft manufactures both the operating system and the hardware, I expected better reliability. I have been a heavy Windows user for 30 years in the course of my work as a software engineer and network administrator, so I know Windows better than the average consumer and I am confident I have not caused any configuration problems. I cannot believe Microsoft has fumbled this product so badly. If it were not for these occasional freeze-ups after sleeping, the tablet would be good, but not great. The battery does not appear to last nearly as long as advertised. But this freeze-up problem renders the device unreliable at best. Given the number of complaints about freeze-ups, I seriously doubt this is a matter of a rare defect. I strongly recommend selecting something other than a Surface Pro 4. I am hoping I will be able to return it to Amazon for a refund. Update with a few other thoughts: I would estimate the battery life at about half of the claimed nine hours. That means I have to depend upon being near a power source after a few hours, which defeats the purpose of having a tablet. To add additional aggravation, Microsoft created yet another power plug rather than using a standard one that can attach to a USB charging port. It connects to the laptop magnetically and easily pulls out when you move the tablet about. It has to be plugged into a power strip and it costs nearly $100 if the fragile cord fails or you misplace it. What a design disaster. Something else that is frustrating me is that the touch screen fails to register a touch of my finger more often than other touch devices I have used. I find the glib messages on this site from the Surface Support Team at Microsoft to be insulting. Instead of owning the problem of shipping devices that did not go through sufficient quality engineering tests, they put customers through what sometimes amounts to hours of tech support that will never resolve these defects. They should have set up a special support line for quickly getting working replacements to customers with defective tablets rather than wasting yet more of their customer's time. If Microsoft had put this tablet through more quality engineering testing, they could have shipped an elegant device that customers would love, but instead they let their customer do the testing for them. Presently Amazon is registering 38% very satisfied customers and 23% very unsatisfied customers for this tablet. So some of these tablets are working great. I hope Microsoft never gets into the car business because at this rate 23% of new cars would leave drivers stranded on the road, in which case they could pull out their Windows phones and call tech support who would direct the drivers to start digging under the hood trying to figure out what is wrong.
A great computer
I got the surface with the intent of using it for note taking and having the ability to work on light weight projects away from my desktop. I was not looking for a desktop replacement but rather a companion device for my desktop. In that role it has worked exactly as I had hoped. I use it in my courses to take notes and find writing on the surface to be very natural, to the point where I transferred all my notes from my notebooks. I also have downloaded my text books so the only thing I need to bring to class now is the surface, and going from two textbooks and several notebooks to just the surface is a huge weight difference. The battery lasts well through all my classes plus the browsing I do between, and home use nets me between 8-10 hours depending on what I'm doing. While I have tried gaming on it, I have the core M3 model, its not exceptional. BUT as I mentioned at the beginning, my intent was never to replace my desktop. As a tablet or laptop it is an exceptional device I would recommend it very highly.
great size… horrible experience.
***Update*** while my initial review was 5 stars, I've now reduced it to 2. I've had this for 3 months and I couldn't be more disappointed. I continuously have frustrations and issues with it. I constantly have to shut down and restart. It freezes quite often. It has just been a huge pain. Oh and to top things off I can't return it because as it turns out you only have 1 month to decide if you want to return. While the size and concepts are all great… I have more issues than it's worth and am very dissatisfied. Really great device. I love the size, the usability and the functionality all built into this tablet / laptop / full PC 🙂 The pen needs a better place holder though. It just attaches to the side via a magnet and the tip was damaged in the process of taking it in and out of my bag.
Surface Pro 4 (M, 4GB, 128GB)
The Surface Pro 4 (M, 4GB, 128GB) was purchased to replace the family laptop and looks like a good choice so far – now that everyone is setup to use it. Like Android requires a Google account it appears now Windows requires a Microsoft account. Each account requires a username/outlook e-mail, facial recognition, password, PIN and a phone number and in the case of children an adults login and credit card (they only charge $0.50). Just like when we got the laptop, all the kids want to fight over using it (we still have the laptop, a desktop PC and a few Kindles) so obviously they like it, unfortunately at the moment we are waiting on a keyboard (bought a Tomsenn that matched the Surface looks and saved a few bucks but it doesn't work so just purchased a Microsoft). Despite the description which says "device only" it does come with a pen. Using a finger on the screen works perfectly (even with Sparin tempered glass screen protector), but the pen seems to either not click or double-click – probably just need a bit of practice using it with the on-screen keyboard, it does seem to work pretty good when clicking on internet links. We have only had it a week so haven't done any writing/drawing with the pen yet. This is a pretty low end version but really will only be used for the kids homework or playing games on the internet, so far there are no complaints about any speed or any other issues. With 6 people using it looks like my next step will be to purchase a few micro-SD cards.
---
View Today's Deal
Check Few more Product From Trusted Seller
---
View Product reviews video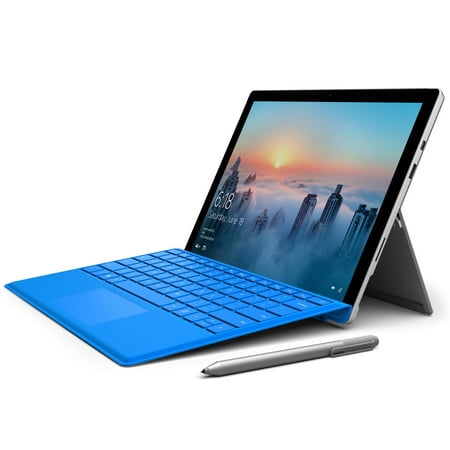 Last update was on: August 13, 2020 5:01 am
Last update was on: August 13, 2020 5:01 am
Last update was on: August 13, 2020 5:01 am Last update was on: August 13, 2020 5:01 am
Last update was on: August 13, 2020 5:01 am Last update was on: August 13, 2020 5:01 am