Fontic 11pcs 3″/80mm Compound Drill Buffing Sponge Pads Kit for Car Sanding, Polishing, Waxing, Sealing Glaze (9 Polishing Pads+1 Woolen Buffer+1 Thread Drill Adapter with Shank)
Engineered to fit on a screw gun and ready for buffing action.
Features
Size: 3.15*0.83 inches,With 9 pads, 1 woolen buffer, 1 thread drill adapter with shank,Please look for the FONTIC store to buy genuine FBA shipments
Used for all kinds of coat paints's waxing, polishing and sealing glaze, to clean and improve their lightness; used for auto car detail polishing
Professional wool and foam pad buffing, polishing and finishing system
Top quality drill adaptor for connect the electric drill
Sponges with different colors and softness, suitable for polishing rough and small areas
Description
---
Easy to use buffer & attachments
Works great and got at a nice price. Use with my cordless drill and Mother's headlight restorer and it works wonders. Photo shows the left headlight that was completed using the orange buffer sponge. Right headlight was not done.
Needs to be in your car care toolbox.
I'm feeling pretty stupid that I didn't pick up this type of set years ago.I love my Dewalt variable speed polisher… but the 6″-8″ buffing pads are an issue in tight fit areas and edges… these 3″ pads compliments those larger pads very well and makes polishing out a new paint job much less stressful.If there is a knock to be had, I wish the backing pad was slightly undersized to minimize the possibility catching the edge as you reach into crevices… but it's something that I could probably trim down myself.
Fantastic!
Absolutely amazing. I don't know how I have done DIY jobs without these. They are extremely versatile and I plan on getting more. I used these to restore my car headlights, that were so hazy you couldn't even see inside, and now they look brand new. I also repainted my car hood and bumper with rattle cans myself and after wet sanding the clear coat for a few hours, I used these with an auto polish and they shine like a pro job. I am a woodworker and will absolutely continue to use these to help wax and polish finished products now that I know about them!
Not bad for $11!
Not bad for $11! I bought this kit and some No.7 rubbing compound to remove some scuffs and a little paint transfer from the right rear fender of my Kia (my wife backed into it) and from the rear bumper of her car. The drill attachment is pretty stout, very decent quality, the velcro sticks great, and even though it came with an assortment of 7 foam pads, I only used one of the foam pads to take out the scuffing and transferred paint from both vehicles and then the woolen buffer pad to shine and clean it all. Worked like a champ, both vehicles look 100% better!
Useful size for a variety of tasks.
So far they are very useful. It's nice to get a set that is smaller. I might get a set of hook n loop backed pads for shoe shining. With a little patience these have proven useful for scrubbing off soap scum from shower and shower curtain.So far the pads have held together and worming well. Good variety of densities and a good price for the pack.I would (likely I will) buy again.
Great for headlight restoring
Love my experience with these pads. I used the black and orange one didn't realize when I ordered it actually makes a difference which one to use. I used these pads to finish my headlight restoring project. One side is pretty scratched up and the orange one really came in handy to buff it out more. I ordered a package of sandpaper 3000 -2500- 1500 bit to get the job done. You can YouTube and see how some people have done it that way. I bought a retail Rainx package restoration kit and they didn't seem to do the trick. Last step compound cream in one of those packages, will need that to use these buffing pads, or order the compond cream too.
---
View Today's Deal
Check Few more Product From Trusted Seller
---
Last update was on: February 23, 2019 9:15 pm
View Product reviews video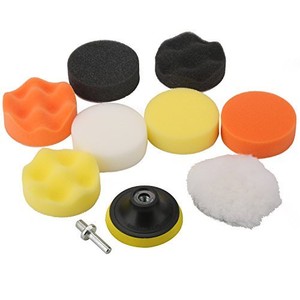 Last update was on: June 23, 2019 7:01 am Last update was on: June 23, 2019 7:01 am Last update was on: June 23, 2019 7:01 am
Last update was on: June 23, 2019 7:01 am Last update was on: June 23, 2019 7:01 am
Last update was on: June 23, 2019 7:01 am