Energizer 1-Gauge 800A Heavy Duty Jumper Battery Cables 25 Ft Booster Jump Start – 25′ Allows You to Boost Battery from Behind a Vehicle!
Great choice for owners of heavier vehicles, even commercial size. Strong brand name and great design/engineering. Extra length and a carrying case.
Features
1 Gauge 25Ft booster battery cables – 25′ Allows you to boost a battery from behind a vehicle!
Copper Clad Aluminum
Suitable for both top and side post batteries
Tangle free cables remains flexible even at -40°C
800A heavy duty professional grade clamps
Description
The Energizer Professional Series of Heavy Duty Jumper Cables are suited for all vehicle types including full sized trucks, vans, and SUVs. These cables are extra long to help you stay safe on the roadways as you can now jump or be jumped from behind a vehicle, eliminating the hassle of having to nose both vehicles close together. The clamps are color-coded (Red for Positive, Black for Negative) and coated with a PVC insulation to ensure your clamps last a lifetime. Tangle-free cables remain flexible even at -40°C. Heavy duty copper clad aluminum 1 Gauge, 25 Ft, 800 AMP. Suitable for all weather use. 2 year warranty.
---
No more pushing dead cars so that the cables would reach! All copper connections, strong clamps.
These are great cables. They are thick cables which make for fast charging of dead batteries. The cables and connections are all copper. The cables aren't as cumbersome as I thought they would be. The clamps are very heavy duty with a tight grip. The clamps have worked well on all batteries so far. They work well for side posts and top posts. The clamps are designed in a way that doesn't let two closed clamps make an electrical connection with each other. This is a nice feature, the clamps will never touch each other and cause a spark. This also makes the clamps less likely to make an accidental connection on the engine. The included bag is nice, but I don't know how long it will last. The clear portion of the bag is pretty soft and thin.I am very happy with these cables. They are high quality. 25 feet is very convenient especially in parking lots or single car driveways. I have used these cables to start my truck from the batteries on my connected Airstream camper which saved me a lot of hassle.
Made jump starting my car much easier!
First of all, I purchased my cables from TechBuy. My product arrived quickly, and much earlier than I expected–which I truly appreciate. (Thank you, TechBuy.) I am not mechanically inclined, but I'll do my best to explain the product I received with some context as to why I bought this and how the product turned out. My review is pretty long, but I hope my experience with this product helps someone.WHY I BOUGHT THIS: One of my vehicles–a V8 BMW–sat in my garage since February 20 without anyone driving it or starting it; that's 50 days ago. It snows where I live, so me being the overprotective person I am, I don't drive my car until it stops snowing and all the salt on the roads is gone; I also work during the week, so I don't get to drive it as often as I'd like to. A few weeks ago, the interior lights were still working but I couldn't crank my vehicle. I bought one of those $70/$80 jump starters from Costco, but it had little to no effect for a few reasons I mention in the "Why I Recommend These Cables" section of my review. I opened the door of my car again last week, but this time, the interior lights never came on; my battery was completely drained.I decided to buy these 25 FT, 1-Gauge 800A Energizer-branded, heavy duty booster cables to jump start my vehicle with my van (with its V6 engine) as my next option. The main reason why I bought these cables is because I was intrigued by the fact that you could jump start a vehicle from behind. I also did not want to push my vehicle out onto my driveway only to have it stuck there and have it rained on later this week. Since I only have a 1-car garage, these ended up being a great investment.HOW IT TURNED OUT: The cables (including the copper-clad contacts, themselves) I received were brand new and came rolled up and placed inside an Energizer carrying bag. Since they are 25 FT long, they were long enough for me to connect my van to my car. However, be sure to move your supporting vehicle (with the good battery) a bit closer to the car in need of a jump before connecting the cables just to be sure they reach one another. The grips and contacts of the cables I received were of good quality.I proceeded to connect the cables to each car, waited about 5 minutes, then tried starting my vehicle. It didn't work the first time, so I waited another 5 minutes and tried starting it again. It worked after a good 4 to 5 second crank, and I was relieved. I drove my car around for a good hour to charge my battery as much as I could until my next drive (tomorrow).WHY I RECOMMEND THESE CABLES: I recommend these cables because of their LENGTH (25 FT or 30 FT options), but also because of the GAUGE SIZE. Earlier in my review, I mentioned that I tried jump starting my vehicle using one those $70/$80 portable jump starters from Costco. The cables from that jump starter have a gauge size of 10 while these have a gauge size of 1.Why does that matter? A high gauge number indicates that the jumper cables contain thinner wires, which then means it takes much longer for enough amperage needed to travel through the cables and jump start a vehicle. Therefore, the lower the gauge number, the thicker the wires and the easier and quicker amperage is able to travel between two connected vehicles. I also needed high quality cables, because I was jump starting a V8 with a V6; I read that better cables, thus, make jumping vehicles with larger engines easier. Moreover, the insulation covering the cables is thick and in excellent quality (based on what I received).The contacts/clamps are made of copper-clad aluminum, which transmits electricity a bit easier than if it was just made of aluminum. Although solid copper clamps would be better, these worked well for my vehicle. If you need these cables for your privately-owned vehicle, I believe these are a great set of cables. If you need it for vehicles with much larger engines (especially commercial engines), you should consider purchasing cables with clamps/contacts made of solid copper instead–which was also recommended by other reviewers.VERDICT: Having done a good amount of research to better understand the product and jump starting a vehicle, I am very satisfied with this product and plan on purchasing another set of these same jumper cables to replace the cheaper, shorter, and 10-gauge ones I currently store in my van. If you are going to purchase and use these cables, I recommend having a friend help you out to make things easier.
I have used them twice, both times on vehicles …
I have used them twice, both times on vehicles I have jumped before with a decent set of cables (6 gauge). there was a noticeable difference. both cars had completely dead batteries and both started immediately. Previously I had to let them charge up a minute or two before they would start. I had to sew a new front on the bag, The plastic panel split out the first time I used it.
All the average person will ever need.
I got the 2 gage 20 ft cables. These are very high quality jumper cables. They are copper clad aluminum, but at 2 gage, should jump about anything a average person runs across with no problem. I think the 25 ft cables are 1 gage which is better if this is something you will use every day. For normal automotive use, 4 gage is the least you should look for, so at 2 gage, these should work great for anyone looking for a quality set to carry in their vehicle for emergencies or to help someone else. The 20 ft lenght will reach most anywhere you need to, and the 2 gage wire will carry more than enough power to start about anything. The average owner won't need these but a few times a year, but good to know they are there when needed. Much more reliable than the rechargeable jump starters that usually last only a couple years, if that. These will last the average person a lifetime when properly used. Great purchase from a good brand name. I need another set for my wifes car now.
The case is a little too lightweight and small to easily store the cables after use
These are heavy and long – but they work extremely well. The clamps are probably the sturdiest I've ever used for jumper cables and solved my problem with awkward shaped areas that some other clamps tended to slip off from. They were consistently starting batteries that would not start with cheap cables, which is kindof the main goal of jumper cables in the first place. The case is a little too lightweight and small to easily store the cables after use, but if you can get them in there it will be pretty compact considering how much wire there is.
Cheap Coating
For the price I shouldn't complain. I think these jumper cables are going to work just fine for what I need. I bought them because I don't like to leave the battery in my fish house during the winter when it's left out on the lake. My goal is to leave the battery in the back of my truck or otter sled, and quick connect directly to the house.I drilled a couple of holes and put grommets through the side of my fish house. Went to separate the wires and the plastic is fairly hard. The coating separated from the wire in a couple of places. I didn't have time to return or replace the item and since it's going to be hidden behind the wall anyway, I just taped and Shrink booted the bare spots.Hoping with the more rigid plastic on the outside of the jumpers, they'll unroll the way I want them to in the cold.
---
View Today's Deal
apt2b.com
$25 Off at Appliances Connection with Coupon Code SAVE25. Offer valid for purchases over $2899.99 on select appliances
Ends: December 20, 2019
appliancesconnection.com
A more potent flea and tick treatment – Bravecto is a pleasant chewable that works 12 full weeks to protect dogs from fleas and ticks just in a single dose.
canadapetcare.com
Check Few more Product From Trusted Seller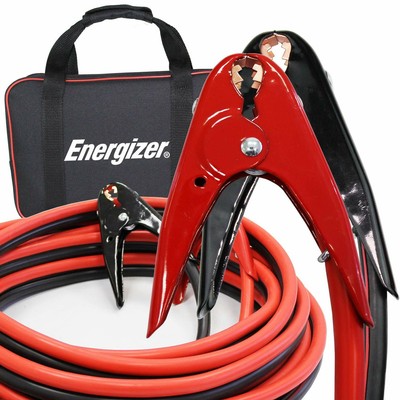 Ebay.com
---
Last update was on: September 11, 2019 5:05 pm
View Product reviews video